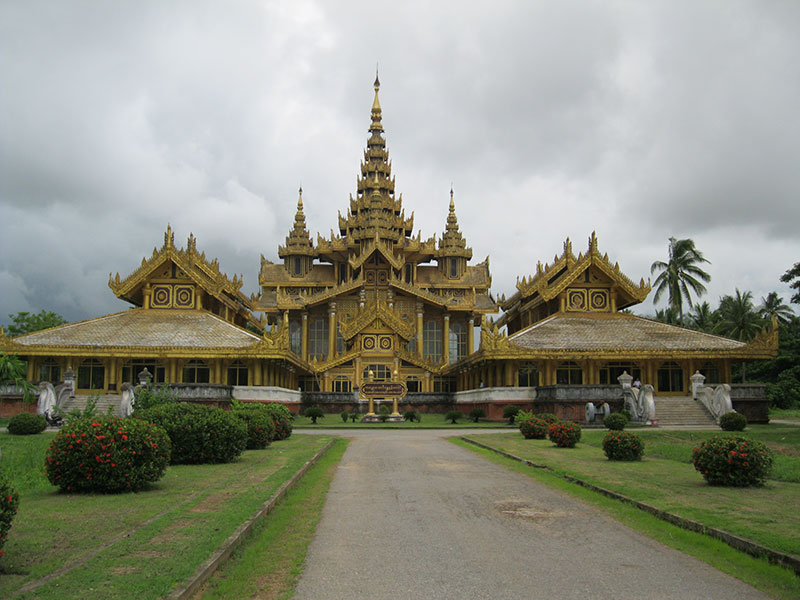 ST 1. Yangon- Bago- Kyaik Hti Yo (Golden Rock)- Mawlamyaing- Pha An- Yangon
( 5 Days Tour)

Day 1 : Yangon
Arrive at Yangon International Airport, welcomed by our tour guide or car driver, transfer to the hotel, have lunch at local restaurant in Yangon. Afternoon visits such as Sule Pagoda flanked by colonial British mansions, walk the walk along the way down to the Strand Hotel. Chauk Htat Gyi Reclining Buddha and continue to the great Shwe Da Gon Zedi. Return back to Hotel and overnight at Hotel/ in Yangon.
Day 2 : Yangon- Bago- Kyaik Hti yo
After the breakfast, check out hotel, lead to Bago, visit included Kyaik Pun Pagoda, dating back to 14 Century, Shwe Tha laung Buddha Image and Shwe Mot Htaw Pagoda the highest pagoda in the region. Have lunch en route then proceed to Golden rock.
Arrive at King Pun where travelers have to take the shuttle bus to go up to the golden bolder Kyaik Hti Yo. Enjoy the sunset on the mountain cliff after the visit of pagoda precinct. Overnight at hotel.
Day 3: Kyaik Hti Yo - Mawlymyaing
Check out hotel, transfer to the base camp to meet the private car, continue to Mawlamyaing, a long drive approximately 5 hrs to get at there. 2 or 3 stops on the way to visit Mon Villages include potteries and rubber plantations. Arrive Mawlamyaing at late afternoon, visit Sein Don Monastery, Maha Muni Image and later on sunset at Kyaik Than Lan Stupa overlooking the river and the entire town. Overnight at hotel.
Day 4: Mawlamyaing- Pha An
After the breakfast, check out hotel, leave the Mawlamyaing to Pha An, visits on the way include Gha Yon Cave, U Hna Auk Monastery, lunch will be served en route at local bistro. Check in hotel in Pha An, afternoon visits will be Lun Bani Garden with thousands of Buddha images with Banyan Trees. Sunset at Kyauk Ka lat Roche.
Overnight at Pha An.
Day 5: Pha An - Yangon
Check out hotel after the breakfast, return back to Yangon, on the way there will be some sightseeing, Kaw Kon Cave, Pha An Market and Ba Yint Nyi cave. This is 7 hr drives to go to Yangon.
In the late afternoon arrive Yangon, check in hotel and night stop in Yangon.