Shwedagon Pagoda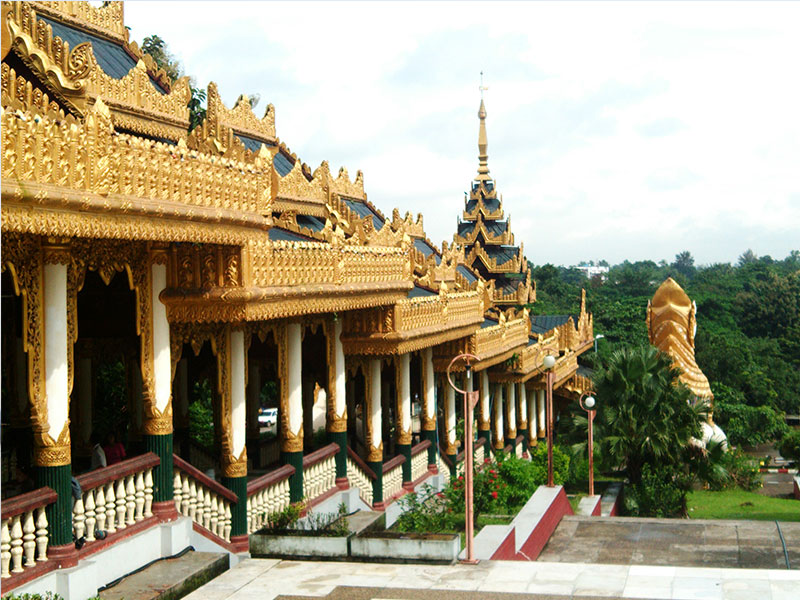 YANGON : Scott Market (YANGON) Yangon (Literally meaning End-of -Strife) is the capital of Myanmar as well as the gateway to Myanmar. It lies 34 km upriver from the Gulf of Mottama (Mataban). It is a gracious once-colonial city, laid out in a conventional "colonial grid" pattern resembling a chessboard, planned by the British city planners.
Yangon is proud of the towering gold-crusted Shwedagon Pagoda, which is best known for its grandeur and awe-inspiring greatness. Described by Rudyard Kipling (1898) as "a beautiful, winking wonder that blazed in the sun, of a shape that was neither Muslim dome nor Hindu temple spire," Shwedagon Pagoda is the one of the most magnificent monuments on earth. It is said to have been built over 2,500 years ago and Four Relics of the FOUR BUDDHAS are enshrined in it. The Pagoda is covered with 60 tons of pure gold and Its Umbrella or Tip is set with diamonds, rubies, sapphires and emeralds. Other places of interest are the Sule Pagoda, the Kaba Aye (World Peace) Pagoda, Chauk-Htat-gyi Pagoda, National Museum, Bogyoke Aung San (Scott) Market, and Colonial Buildings.
Many old colonial style buildings are still standing in YANGON, many of which are now occupied by government offices. The City Hall is one of the grandest, an impressive stone structure with classical colonial style and integrated with a Myanmar touch. The Supreme Court, High Court, General Post Office, Strand Hotel, Port Authority Building, Custom House and Railway Administrative Building are also magnificent remembrances of the bygone era.